Embed Google Map on Your Websites for Free
Our google map generator will help you generate and embed Google map on your website using the resulting HTML code. You can easily add the generated embed code into the source of your webpage where the map needs to be displayed. There is no further customization required as all the necessary options are preset before generating the map code.
Table of contents:
Features of our Google Map Generator
Our tool comes with all the necessary setup required for the generation of Google maps embed code with an easy to use frontend for users without having to worry about the technical part.
Available Options: All the commonly used parameters like Address, Map type, Zoom, Width, and Height are available in the tool. So you can easily define the required values per your website's requirement on these parameters before generating the code.
Responsive Google Map: In addition to the commonly used parameters mentioned above, we have an additional option to choose if the Google maps iframe needs to be responsive. When you enable this option, a responsive embed code will get generated, which will allow mobile users to navigate through the map without any issues when embedded on your website.
Live Preview: Use the preview section of the tool to see how the map will look like on your website before generating the code and embedding it. The map displayed on the preview section will get refreshed automatically for every parameter change you make on the selections. So you can easily make the required selections seeing the live preview, and generate the embed code.
Steps To Generate Google Map Embed Code
To generate Google map embed code for your website, all you have to do is type in the address, set map properties, and click on the generate button.
We have different map properties as options to choose from on our tool. Let's look at each of the available options in detail for a better understanding of its usage.
Type Your Address: This is the field where you will be typing the address of the location which the map has to display.
Map Type: This option allows you to pick the map type. It comes with the following four options,

Roadmap
Satellite
Satellite with street names
Terrain

Zoom Distance: With the help of this slider, you can easily set the map view distance. Just slide back and forth to choose the desired zoom level by looking at the map's live preview.
Width & Height: Use this option to define the map's width and height values. You can use the slider or directly input the values in the textbox provided.
Make Map Responsive: Enable this option to make the google map responsive across different devices like Computers, Tabs, and Smartphones. If you want to set a defined width and height, you can keep this option disabled.
Generate Map Code: Click this button to generate the map's HTML code once the above settings are made.
How To Embed Google Map into Website?
If you have the Google map code generated by using our tool and have it copied to your clipboard, you can now easily embed Google map in the HTML of your website.
Just paste the copied map code anywhere within the <body> section of your web page and save it. If you have doubts about embedding the code, refer to the example in the below screenshot. After you save it, the embedded map will appear on the next reload of your web page.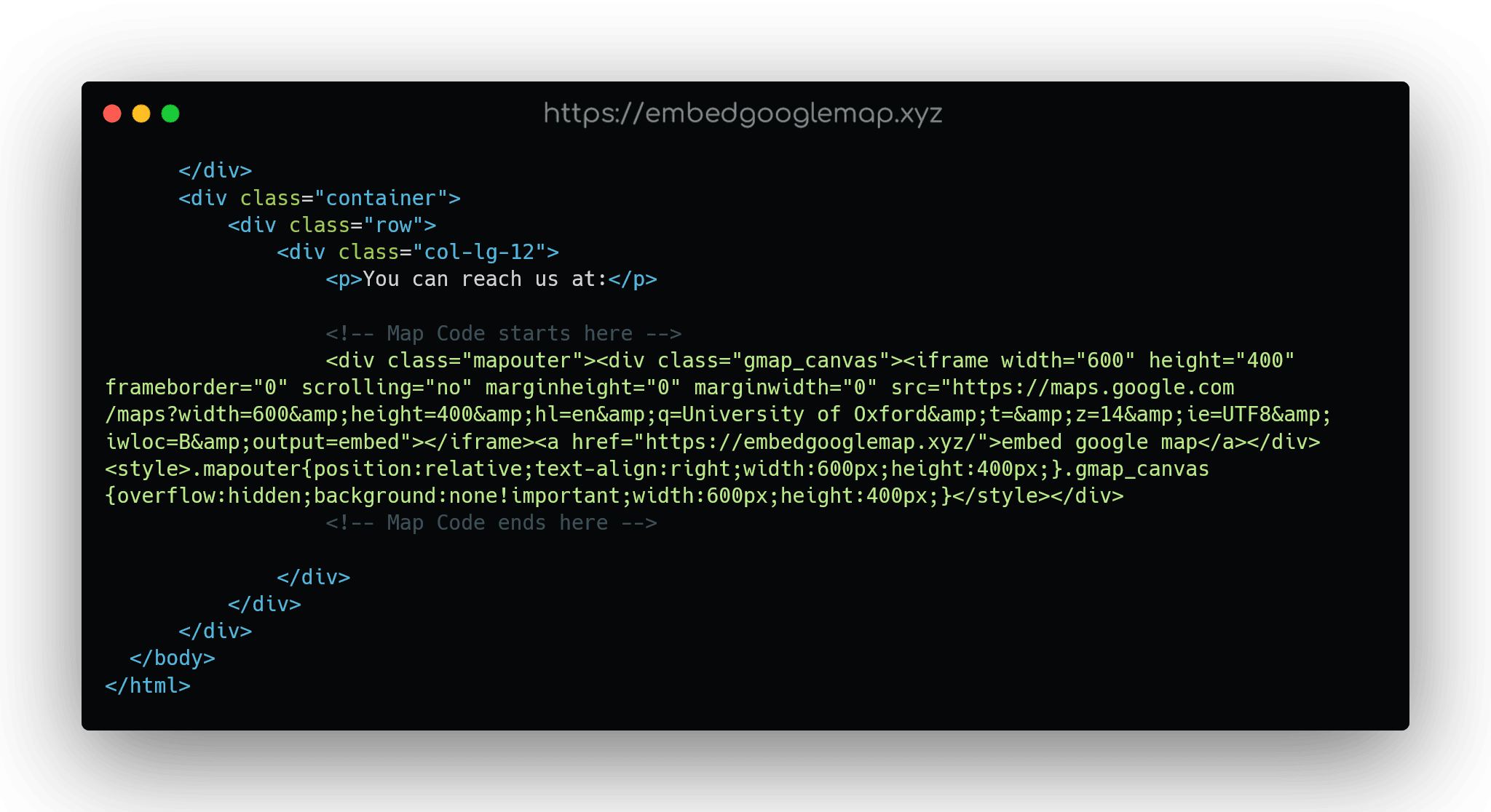 Few Tips for Better Results
At this point, you now know how easy it is to generate and embed Google map on your website. Now we will look at some of the tips for getting better results with the overall map generation and embedding process.
Give Precise Address: To quickly locate your office or store for map generation, in the address field, instead of searching with general keywords, you can copy the entire address from the google maps as it appears there and paste it here.
Add Your Business to Google Maps: It is recommended that you add your business to Google maps before generating the Google maps iframe code. Because by adding to google maps, you will get a marker that points at your location and a title card with your business name and address visible in it. You may follow the steps mentioned in this guide to do this.
Embed a Responsive Google Map: Non-responsive map, when viewed by smartphone users on your website, may go beyond the visible screen area, thus breaking your website's responsiveness. For that reason, it is best to embed a responsive google map on your website. While we have a fixed-width map generation option, you can also generate a responsive google map. Enable the 'Make Map Responsive' toggle on the map generation tool to generate a responsive google map code.
FAQ
Can You Embed Google Maps into Website?
You can embed Google maps showing your preferred location into your website using the Google maps embed code.
Is Google Maps Free to Embed?
Yes, Google maps are free to embed. If you want more control over the map for your business needs, you may have to pay and get the Google maps API.
How Do I Embed a Google Map?
First, generate the map code using our online tool. Then copy-paste the generated Google map embed code into the <body> section of your web page's HTML.
How Do I Embed a Responsive Google Map?
If you are using our Google map code generator, you have the option to generate a responsive map code. With this option enabled, you can embed a responsive Google map on your website.
How Do I Embed a Google Map in Bootstrap?
Map codes generated using our website are Bootstrap ready. So you can directly use our map code on any Bootstrap enabled websites.
How Can I Add Google Map API to my Website?
We are not using Google map API to generate the map code. Also, It is not required for you to obtain Maps API to embed the Google map code generated by our tool on your website.
---